Performing Arts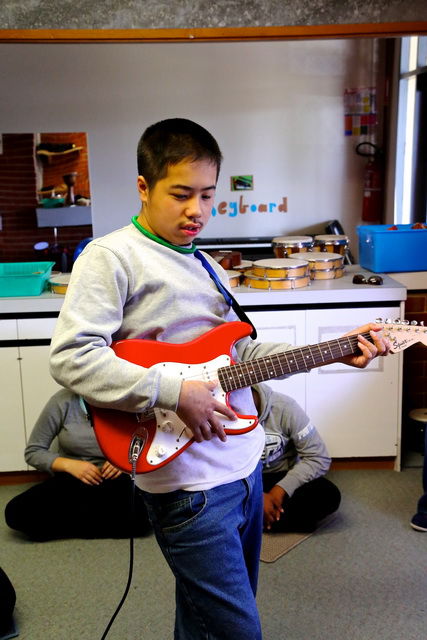 The performing arts program at Sunshine SDS aims to provide opportunities for every student to participate in the development of skills and knowledge in the following areas:
Singing

Movement/dance

Listening

Percussion/tuned instruments

Improvisation/ performance

Self-expression and achievement 

A typical lesson focuses on engagement in musical activities addressing students' individual goals, in addition to group activities, which promote social interaction.
Literacy and numeracy skills are inherent features of the music program. Communication is fostered through verbal, gestural or visual means to choose and sing songs. The ukulele is used to accompany songs and is a powerful tool to promote confidence in developing literacy skills.
Popular music is used for dancing, and students can choose to move individually, with a partner or an adult. Circle dancing is also used to enhance social and communications skills.
A large mirror is used for students to see themselves and others move, which enhances creativity and enjoyment. Group sessions using percussion instruments promote beat, rhythm and improvisational skills, whilst the keyboards and ukuleles are highly engaging for many students to use on their own.
The students are encouraged to demonstrate their talents for the group and in turn, listen to others demonstrate their work. Lessons conclude with a sensory activity – listening to classical music, soft cushions.